Great Places To Buy Baby Gear And Gifts In Nashville
by Jen Bua
Around the beginning of the year every year, it feels like a whole bunch of people I know are welcoming little ones into the world. Which means I'm often thinking about baby gifts at the beginning of the year, too.
Being a mom myself, I'm well aware of just how many things are needed (and wanted) when a new baby joins your life. And being a Nashvillian, I'm also aware of how many great places we have to shop for fun and unique baby gifts.
Since I know I'm far from alone in having excuses to shop for cute baby gear from time to time, I thought I'd round up a few Nashville shops and makers that I think are ideal places to turn if you're expecting, holding onto an upcoming shower invitation or taking care of a new addition:
2164 Bandywood Dr. Nashville, TN 37215
Green Hills boutique Plaid Rabbit has a long local history — it started off in the late '70s, simply called Children's Shop, and has gone through several changes over the decades, taking its current (and very cute) name four years ago. In the shop: everything from nursery decor to designer kids' clothes and personalized baby items like receiving blankets and diaper bags.
725 Porter Rd., Nashville, TN 37206
Rich Hippies is a new addition to the East Nashville shop landscape, and fittingly, they cater to the cool kids, with items like the clothes pictured above. If you know a mom/dad that likes to stretch beyond your standard baby-wear, it's definitely worth a look.
The SCOUT folks don't have a brick-and-mortar shop, but they do host somewhat regular pop-ups around town and their online store is stocked with baby gifts, clothes and accessories and nursery decor with a focus on small/independent makers and responsibly made products (organic, environmentally responsible, etc.).
1200 Villa Pl., Suite 110, Nashville, TN 37212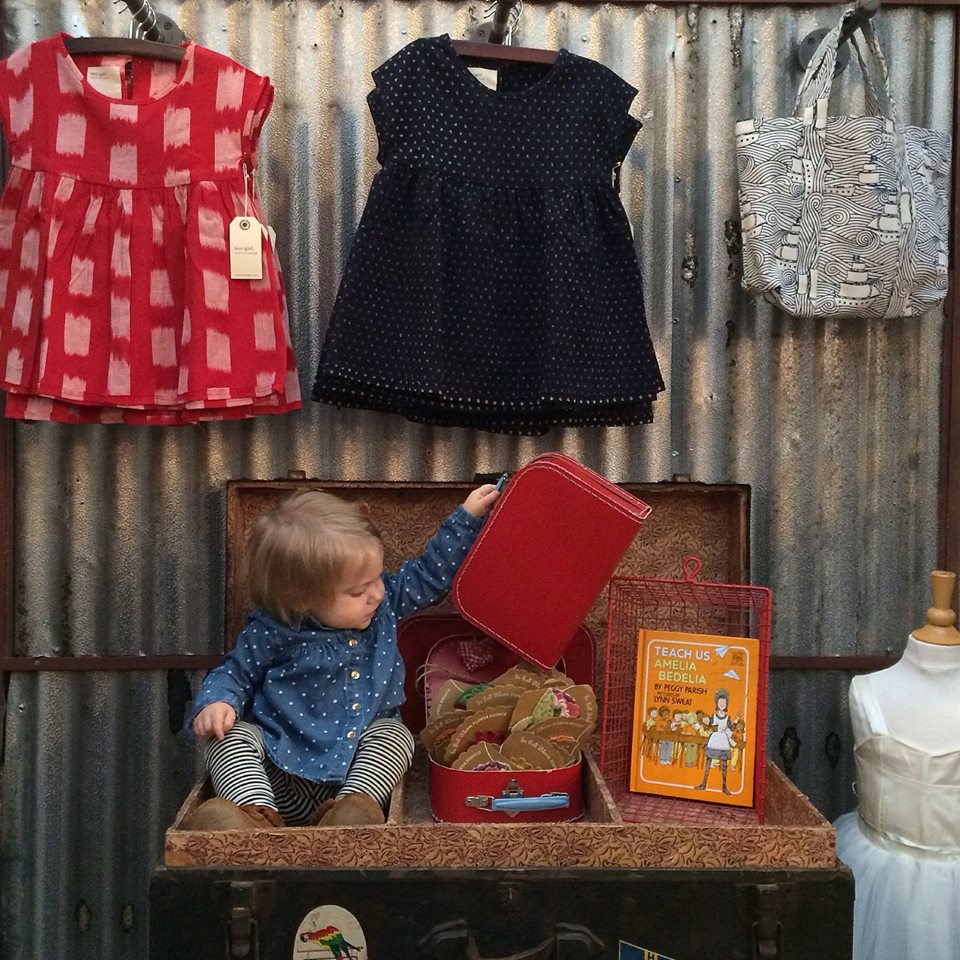 Tweed's fashionable owner, Maggie Kleinheksel, makes sure to stock the cozy Edgehill Village shop with a healthy share of cute items that aren't too girly or boyish — which helps a lot when you're shopping for friends/your baby when the gender's a surprise.
Jill Hickman's Oh Just Dandy is another non-brick-and-mortar shop — she sells her handmade baby items through Etsy, and from bibs to rattles to stuffed animals, everything's adorable and unique. (I'm partial to her foxes, above, and since it's almost Easter, those Bunny Ear Teethers, up top, seem like great gift choices too.) Another thing I really like about shopping Oh Just Dandy: You're supporting a local artist while spoiling your little one (or your giftee).
Tell me: What are your favorite local baby shops or makers? I'd love to see some more suggestions — drop by our Facebook page if you have some fun thoughts to share.
Did you land here because your expanding family has you looking for a new home with more space in Nashville, Brentwood, Franklin or elsewhere in Middle Tennessee? Let us know if we can help!