10 Home Design Tips To Help You Create A Space You Love
by TJ Anderson
I've gotten a ton of great home design inspiration recently — some of it coming from the featured listings in East Nashville and Salemtown that hit the market courtesy of Paragon Group, which were built with an eye on both sustainability and serious, timeless beauty.

The timing couldn't be better, since I'm also in the process of choosing the finishes for our beautiful new builds in Woodbine — one an urban farmhouse, one a classic foursquare, both bigtime charmers with huge yards and a fantastic location in a quickly up-and-coming Nashville neighborhood.
As I've been nailing down the details, from exterior paint color to master bathroom tiles, I've been making a mental list of the things I've learned over years of touring way more homes than your average human being. I've seen the good, the bad and the astonishingly ugly more times than I can count, and I like to think I've gained some valuable knowledge along the way.
So with all that said, here are 10 of the home design tips that have stuck with me, and that I stick to, whether I'm pulling my own home together or finishing up a new property to sell. (These Woodbine homes will be on the market soon — if you don't already follow us on Facebook and Instagram, please jump in, we're updating regularly.)
TJ's 10 pieces of home design advice
Respect the classics

When it comes to picking finishes, I always stick with the classics, from tile, to color to fixtures. Subway tile, fresh whites and subtle grays, faucets with cross handles, shiplap… There are a ton of benefits to leaning classic with your design: You'll find that what you're looking for tends to be more readily found (often cheaper, too), will complement just about any design scheme, and will stand up to the passage of time and changing tastes (i.e., if you decide you want to sell the home down the line, you won't be looking at massive "updating" to take your place out of an era you too firmly placed it in.) Pictured above, on our Wheeler Avenue homes in Woodbine, I chose Sherwin Williams Iron Ore for the foursquare on the right, a nice crisp and classic white for the farmhouse. Classic and beautiful.
Lighten up on the inside

I'm obviously not afraid to work with a dark exterior color (see above), but I'd encourage avoiding dark interior colors, unless used sparingly. They can make rooms feel dark and confined, and can be really hard to design interiors around, too. If you really love dark, rich colors, there are ways to use them that have a strong impact without limiting the rest of your design.
Use your accents to make your bold statements

Those ways to use dark, rich colors? Accents. A big piece of statement art, rich and boldly patterned throw blankets and pillows, decorative pieces on your mantel or bookshelves…. Trim is a great place to do it, too. (The black trim and doors at 302 Coffee Street, pictured above, really make the space for me — that Salemtown home is on the market, too.) You can really have fun with accents, and they pop more when you've chosen lighter, classic colors for your walls.
Try mixing old and new

I mentioned this in our most recent open houses roundup, but I find that marrying old and new brings a beautiful juxtaposition to a space. Random example I liked when looking around local home listings: on the market in Nashville now, this new home has a sleek new kitchen with a prominent stainless vent hood, set off with a statement wall of reclaimed, skip-planed Kentucky Thoroughbred horse farm fence planks. That rugged texture and color plays with the light and fresh kitchen in such a cool way.
You can't hurry love

We've all done this: You're renting and you just need somewhere to sit and something to put your TV on, so you quickly buy something utilitarian and, almost invariably, poorly made. (Think awful shelving from Walmart, or that blocky pasteboard TV stand we all had at one point.) There comes a point — especially after you've bought a place — when arranging a space that serves a purpose moves aside for creating a space that you LOVE. If you're there, the key thing is to take your time. Don't buy anything — not a side table, not a lamp — unless you love it, and/or it has meaning in your overall design. Resist buying something random out of necessity. It'll make your space feel less than, and end up on the curb anyway.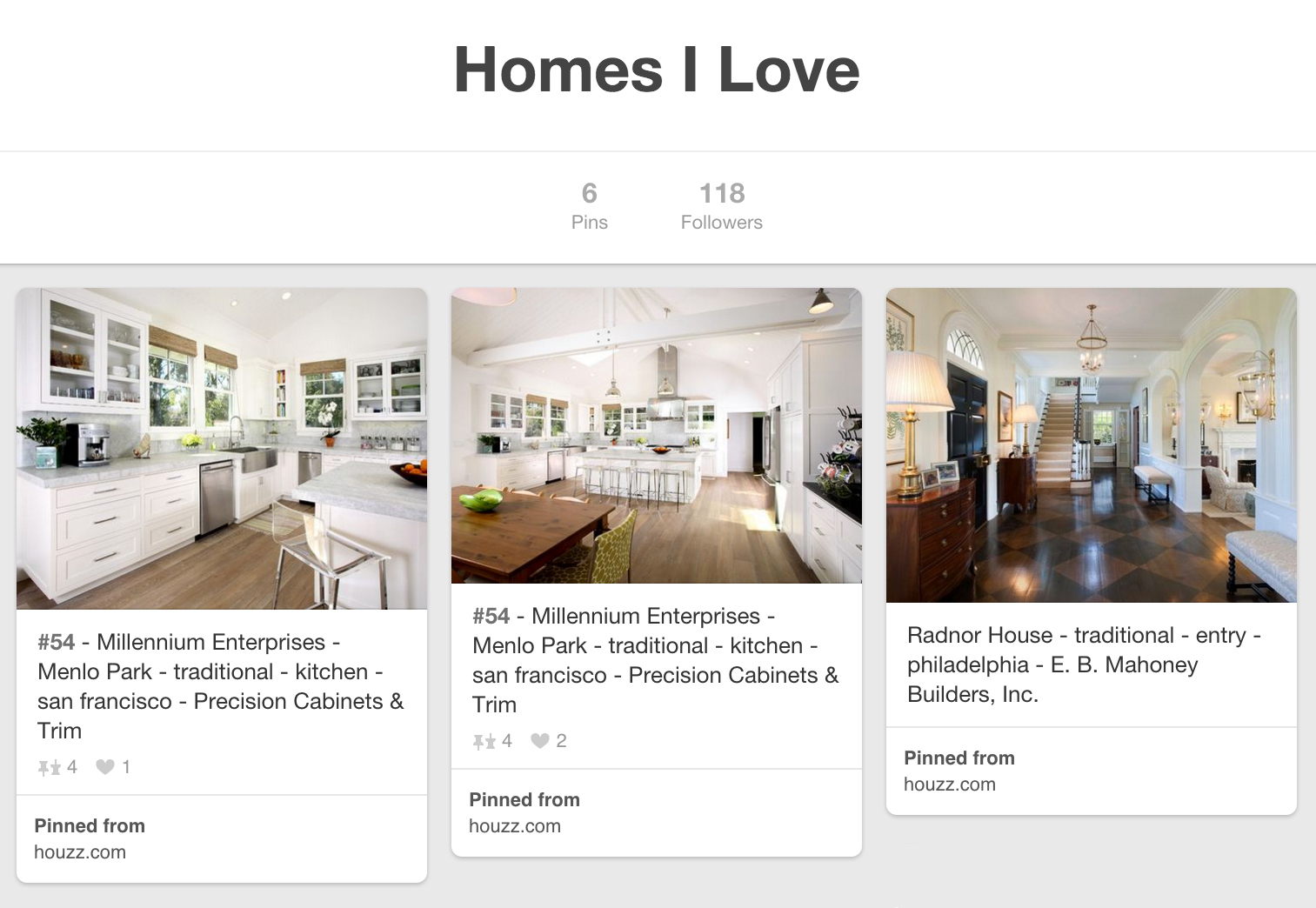 Embrace technology to get an overall design vision

To understand whether an individual piece means something/fits in your overall design vision, it helps to… have a vision. And sometimes it can be hard to really visualize a vision. Luckily, we're living in the future, and there are a ton of really useful tools out there to help you plot a map to your design destination. For me, it often starts with gathering inspiration well in advance — Pinterest is great (if you're not following us on there, please do), as is Houzz. Both make it easy to browse a ton of great spaces and pick images that speak to you, collect them in an organized way and leave notes about why you did so. There are a lot of great sites and apps for creating/browsing color palettes too, which'll help you a lot when you're choosing accent pieces and furniture (Colour Lovers is a pretty good one). There are some really involved apps around that'll let you do a virtual 3D design of your space, adding and removing furniture, too (Pair is one, and I find it a little tough to work with but it has potential). Overall, use what's available to you to create a solid plan that you can turn to whenever you're not sure what to pick/try next.
Always go old school with paint

Technology is great, but nothing replaces good old-fashioned testing when it comes to paint. Colors will look vastly different in different rooms, on different walls, at different times of day. What looks like a nice cool gray in the store can end up looking like a weird dusty lavender in your bedroom, and if that's not what you wanted… you just spent a bunch of time and money to have to repaint. So always buy your paint samples, and paint test squares that are a few feet wide, on several different walls. Use two coats — ideally on a white background. (Good tip if you haven't primed yet: Get some posterboard, put two coats on that and hang in a few places.) See what you think at different times of day, in high and low light. And don't be afraid to bail on that color you thought was perfect, three, four, eight times if you have to, before you break out the roller in earnest.
Lighting makes the home

Paint color might take up the larger amount of square footage, but for my money, lighting is what makes the bigger impact. I spend a ton of time thinking about and choosing the perfect light fixtures, from kitchen island to master bedroom. A light fixture can make a huge statement where you want it, or can figuratively and literally spotlight another focal point when you want that. Fixtures bring in as much style as they do illumination. So again, take your time, develop a vision, and buy something you love. (Above, fixtures I chose for the Woodbine foursquare and urban farmhouse.)
Balance your budget
Of course you want to have a sense of what you can and should spend before you dig in to decorating a room, but bear in mind a balance within that budget. Like I said earlier, you can save money and still make a strong aesthetic impact on something classic like white subway tile. But sometimes you might wanna go a little more high end for impact — and if you plan to balance splurges and savings, you can do so. Think about what really matters to you, and what you really love — maybe you're crazy about a particular kind of chair, or you've had your eye on a gorgeous rug. Plan to build your budget around a few key splurges, and a few places where you can get away with a more basic pick. Those splurges usually end up making the basic items look more luxurious by proxy, anyhow.
Start at the front door

Your front door color sets the tone for your home's design, and, some posit, says a whole lot about who you are, too. So think about what speaks to you, what speaks for you, and break out the paintbrush.
If you're getting ready to renovate or decorate your home, I hope you find these thoughts helpful. (If you have your own tips to share, please do, too.)
And if you're on the hunt for a new home to put your design touches on, call or email me — I'd love to help you find the right place.

Author:
TJ Anderson
Phone:
615-364-1530
Dated:
February 21st 2016
Views:
1,181
About TJ: TJ Anderson is a Nashville Realtor with Benchmark Realty who's helped countless clients both buy a h...