9 Affordable Furniture Shops In Nashville And Nearby
by TJ Anderson
Back in December when we learned that Memphis would be getting an Ikea, but that Nashville wouldn't be, there was, shall we say, a bit of sour grape juice spilled. I get it — there's certainly something to be said for Ikea's cute and inexpensive furniture when you're outfitting your first apartment, or looking for a rug that you know'll get trashed by your dog's feet, or when you just need something simple to last a few years in a kid's room.
But — playing devil's advocate here — truth is, we don't exactly need an Ikea in Nashville to be able to outfit our rooms without breaking the bank. If you've just bought a new home and need new furniture on a budget, you're definitely not out of luck in Middle Tennessee, even without Sweden's famed providers of cheap coffee tables and irresistible meatballs.
If you're looking for affordable but cool furniture in Nashville (and want to look outside some of the other national chains that we do have), here are a few local places I'd check out:
8105 Moores Ln., #900, Brentwood
When your budget's tight, consignment can be a great call — choices are unpredictable, but that's often part of the fun. At Finders Keepers' two locations, you can snag anything from a modern five-piece kitchen table set at under $150 to a five-drawer teak chest for $200.
Example: The antique Victorian sofa pictured above, on sale for $150
1001 Eighth Ave. S., Nashville
Habitat's ReStore locations carry used items in good shape at big discounts, and while, like consignment and vintage shops, it's very luck-of-the-draw, you can find some really cool staples and unique pieces for cheap. Added bonus: The stuff you're buying is helping Habitat help others. (Side note: The other Nashville ReStore location, at 908 Division St., focuses on building materials/paint/etc., which can be just as helpful to new homeowners.)
Example: the baby changing station above, for $100.
1011 Gallatin Ave., Nashville
A relatively new addition to the East Nashville vintage furniture scene, Lost Century regularly stocks cool, well-priced items, from mid-century dining sets to furniture straight from the estate of country legend George Jones. Their Instagram is a good place to keep up with the fun new stuff that shows up.
Example: the above mid-century bar cart, $145
3656 Trousdale Dr., Suite 112, Nashville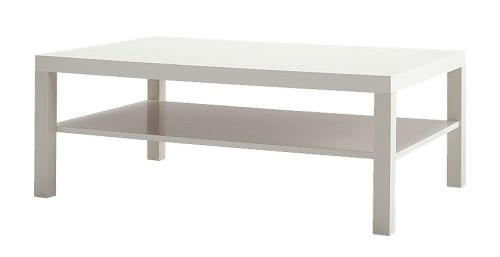 If we're going to bring up Ikea, seems necessary to make note of ModerNash, which keeps a showroom stocked with popular Ikea items and provides pick-up for other Ikea items from the nearest store in Atlanta (you can calculate shipping costs on their website).
Example: Ikea's ubiquitous LACK Coffee table, $69
525 Hagan St., Nashville
If you were familiar with now-closed Nashville Hotel Liquidators, American Hotel Liquidators is the new, similarly focused place from NHL's Audrey Korshoff. The new place, in Wedgewood-Houston, also stocks furniture and home decor items liquidated from boutique/high-end hotels, so you can snag some nice, non-bank-breaking finds — a modern desk for $40, clean chrome floor lamps for $25 and the like.
Example: this sleek black chair for $35
1006 Fatherland St., Suite 305, Nashville
Another pretty new East Nashville addition, Nest 615 carries a lot of vintage furniture, but owner Ginger focuses mostly on pieces that are in need of love/new life, which she provides with rehabs, updates and fresh colors. She regularly shares new projects that hit the shop on Facebook, so if you're looking for something in particular, it's a good place to keep up.
Example: painted 1920s dresser, $325
3701B Gallatin Pike, Nashville
A longstanding East Nashville favorite, Old Made Good just about always has something cool and affordable, from vintage couches to rehabbed kitchen cubbies. They share daily updates about new finds on Instagram (and you can often buy your chosen piece through them on the 'Gram spot, too).
Example: vintage Kimball Furniture chair, $145
2110 8th Ave. S., Nashville
If you're looking for mid-century cool and reasonable prices, this place for sure needs to be on your list. Their inventory moves quickly, but you very well may stumble on a full mid-century dining set in the $500 range, cool side tables for under $200 and lots and lots of fun vintage decor.
Example: colorful retro chairs (you need to snag prices in person or by phone, 292-1958)
1004 8th Ave. S., Nashville
211 Robert Rose Dr., Murfreesboro
Another solid consignment option, Remix stocks a mix of furniture choices, from vintage to newer, from classic to modern. Prices range accordingly too, but deals are easy to find, from high-end dining tables under $300 to ornate king-size headboards under $200.
Example: shabby chic chairs (prices change monthly, so you have to call 736-7515)
Hope this gives you a few worthwhile new places to check out — any affordable local furniture places you think I missed? If you're still in the finding-a-new-home stage of this process and you need some help, let me know!
Author:
TJ Anderson
Phone:
615-364-1530
Dated:
January 21st 2015
Views:
12,487
About TJ: TJ Anderson is a Nashville Realtor with Benchmark Realty who's helped countless clients both buy a h...