Celebrate National Dog Day By Bringing An Adoptable MACC Dog Home
by TJ Anderson
From time to time, I like to remind clients and friend that I have a standing offer out to sponsor your dog adoption through Metro Nashville Animal Care and Control. Supporting pet adoption is important to me, and helping shelter dogs find their families — plus helping people in my world find a new best friend — will always be a passion.
This Friday, August 26 is National Dog Day, which seemed like a good excuse to bring your attention back to the many sweet dogs waiting at MACC for their forever family. As it happens, the folks at Mars Petcare, A Better World for Pets are also jumping on the sponsor train to coincide, so Friday and Saturday at MACC, your adoption fee is already totally covered.
There are over 150 pets at MACC right now, so the shelter is at capacity, and they're hoping that the Mars' sponsorship helps clear the adoption floor to make space for other pets in need. If you can't make it Friday or Saturday, though, but are ready to welcome a new member into your family, let me know — I'm happy to pick up the sponsorship baton, any day.
For a little more encouragement, here are just a few of the snuggly faces at MACC right now that could be brightening your days:


REBA MACCENTIRE
ID#A129331
I had to point out this beautiful girl, given the fact that I just posted about Reba McEntire's Lebanon farm going on the market. This Reba is a Boxer/Pit mix, and the staff thinks she's about 5 years old, so if you're not really prepared for puppy energy, she's at the perfect age for chill snuggles. More about Reba here.
KING
ID#A131165
All about puppy energy? Little King is about eight months old, and he's a Lab mix, so you can expect a lot of smarts, and a lot of sweetness. More about King here.
TRAVELLER
ID#A130827
As a travel buff, I'm fond of this guy's name, plus fluffy, floppy ears get me every time. Traveller's about 4 years old, and an English Setter/Boxer mix. More info about Traveller here.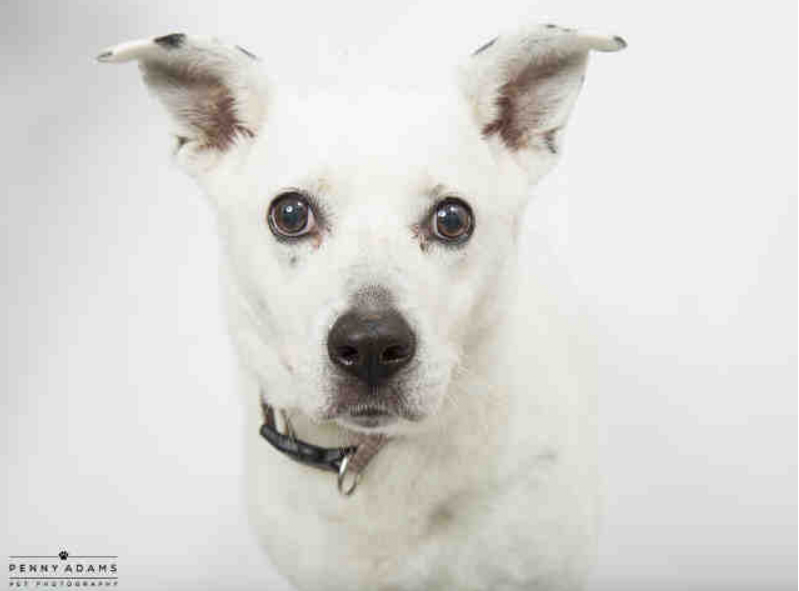 DIAMOND
ID#A131331
Older dogs often to get overlooked, which is a bummer, since they can be the chillest, most devoted friends around. Diamond here is about 8 years old, and she's sure pretty — a mix of Dalmatian and Labrador Retriever brought about that sweet face and cute spots. More info about Diamond here.
HARIET
ID#A129578
Come on, with that hat! If you need a buddy who's up for anything, Hariet's clearly your girl. She's a Pit mix, and just shy of two years old, so she's a young girl, but probably just out of the puppy wildness. More about Hariet here.
Those are just a few of the pups on the adoption floor at MACC right now. (Australian Cattle Dog and Welsh Corgi mix Fred, up top, is adoptable too — grab more info about him here.) Head to the MACC website for more info and to look at the longer list of adoptable animals.
If you're planning on heading over, MACC is located at 5125 Harding Place, Nashville, TN 37211, and they're open 10 a.m. to 4 p.m. Monday, Tuesday, Wednesday, Friday and Saturday, 10 to 6 on Thursday.
Lots more info at Metro Nashville Animal Care and Control Facebook page too.
If you invite a new best friend into your family, please tag us on Instagram or Facebook, I'd love to see! And don't forget, if you can't get by Friday or Saturday and are looking for an adoption sponsorship, let me know — I'd be more than happy to help.
Author:
TJ Anderson
Phone:
615-364-1530
Dated:
August 23rd 2016
Views:
667
About TJ: TJ Anderson is a Nashville Realtor with Benchmark Realty who's helped countless clients both buy a h...