DIY Pet Projects That You And Your Dog Will Both Love
by TJ Anderson
I've been working in real estate for a long time, but even this far in, I still learn something just about every day. My most recent lesson grew out of buying and moving into my own new place.
We've been doing some renovations, and the place is feeling great. But it wasn't quite there yet. I made a pitstop at Southeastern Salvage, and picked up a few things for my dog, Ella, and placed them around the new house. Ella loved my picks (she's not coy when she appreciates the things I've done), and immediately, I realized something: My house only feels like home when Ella's pawprint is on it too.
That might not seem like a major revelation — if you're a dog lover, your dog is a huge part of your family. But I hadn't considered how important just-for-Ella spaces were to my feeling at home in my new home.
I already made some purchases, but this has inspired me to put some reno/building energy toward Ella's needs, too. I spent a little time scouring the Internet for cool DIY pet projects, and these are a few of the favorites that I've put on my to-do (or at least to-ponder) list. (Related to all this, don't forget: I have a standing offer to sponsor your dog adoption through MACC. If you're thinking about adding a new pup to your family, reach out and let me know about it — I'm passionate about shelter dog adoption, and I'd love to help you welcome a new best friend into your family.)
Cool DIY Pet Projects
A super easy DIY from HGTV that I think'll really work for my friends who have vintage/mid-century style sensibilities, and small dogs (or cats). We have a great selection of thrift/vintage stores in Nashville, so vintage suitcases aren't hard to come by. And the cushion fabric gives you a good opportunity to play with the color scheme of your home… I mean, dog beds can be eyesores, but they don't have to be.
Looking for a project that's a little more modern, and a little more furniture-y? I love this modern pet bed on A Beautiful Mess — clean lines, the opportunity for cool color and pattern… I'm half inclined to build a human-sized one for the master bedroom. You have to be a little handy to make this one happen — comfortable with a miter saw and a Kreg jig and the like. But if you can swing it, I think the results are more than worth the effort.
Not gonna lie: Looking at the finished product makes this doghouse from HomeMade Modern seem a little intimidating, and like it'd take about half as long to complete as the Woodbine/Flatrock peoplehouses we just finished. That said, I couldn't be more in love with the look — this'd be as much an art piece for the covered porch as a cuddle spot for Ella. (OK, almost as much.)
I love how this dog food station DIY from Addicted 2 DIY not only gives Ella her dedicated place at the table, so to speak, but it keeps her stuff organized, in one place and looking good. (Theoretically, when I get around to making it.)
Not big on cutting/sanding but still want something unique? I don't think this recycled tire idea from Practically Functional works too well for, say, sticking in your living room, but in a den/bonus room/game room/man-and-dog cave? Totally. (I might not go with the day-glo pink, personally, but that's just because Ella's a little more laid back.)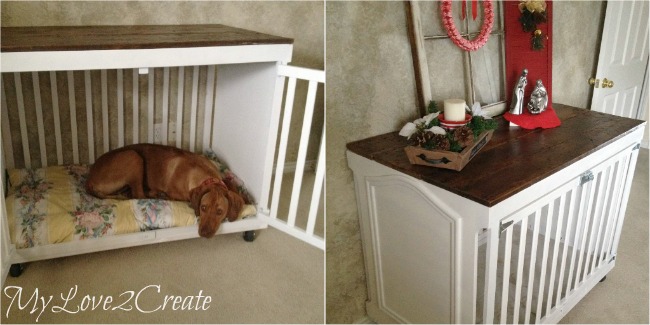 Dog crates tend to be fantastically ugly. Baby cribs, on the other hand: usually pretty cute, by design. So it logically follows that repurposing an old crib into a wooden crate would look kind of awesome. Not ideal if your dog is a bigtime chewer, maybe, but if you have a mellow dog that just likes the my-private-den feel of his or her crate (and you're sick of staring at that wire thing), this DIY from My Repurposed Life could be perfect.
Have more of a farmhouse/French country home look going? I think this pet bed from The Inspired Hive would be perfect for your dog (or cat). Double bonus for it being super simple, and very customizable.
I'd probably simplify this DIY from Momdot a little — sleeker hook, maybe mount it flush without the twine — and I'd probably use one of the stations for doggie bags, to be extra useful. But I think the general idea is great and convenient, in a mud room or laundry room, to keep your pup's stuff organized, but still, in a sense, a part of your space, not stuck in a closet.
Any pet projects you've taken on that you're really proud of? Please share — I'd love to see some more ideas.
If you're looking for the perfect new place for you and your four-legged family member(s), please reach out and let me know if I can help!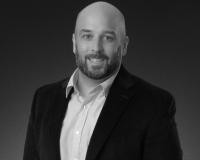 Author:
TJ Anderson
Phone:
615-364-1530
Dated:
May 18th 2016
Views:
1,668
About TJ: TJ Anderson is a Nashville Realtor with Benchmark Realty who's helped countless clients both buy a h...