Good And Not So Good Nontraditional Christmas Tree Ideas
by TJ Anderson
This year, I for one am really looking forward to immersing myself in holiday tidings, and heaping love on my family, friends, clients and coworkers.
But this year will also be our first in a new home, with a new puppy. You may relate to the predicament: How do we deck out our house with Christmas cheer, while not having our efforts demolished by an energetic pet?
We've started thinking outside the (gift) box a little, exploring non-traditional Christmas trees that might still be fun and festive but less expensive, less time-consuming and less prone to puppy and cat attacks than traditional trees.
I've found some cool inspiration, and some serious head-scratchers. For those of you who are about to embark on a similar exercise, I've collected some of my favorite ideas, and some of the suggestions I'd roast on an open fire. Hope you enjoy!
Non-traditional Christmas tree ideas I love
This one doesn't have a how-to, but the photo's pretty self-explanatory (doubly convenient, unless you speak French). This wouldn't last long, as helium balloons go. But i appreciate it for modern, monochromatic design, ease of construction/breakdown and the fact that you can let it lift out of puppy paws' reach.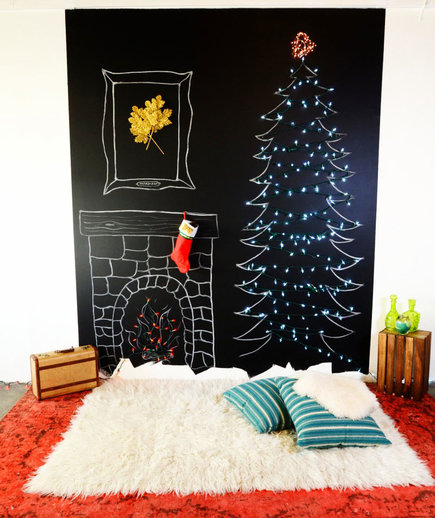 This appeals to my fa-la-la-laziness, but I also think it'd be a fun project to do with kids, and it has the potential to be a change-with-the-seasons statement wall. You'd have to pick the right wall to make it not stick out in a bad way, but if you have an open kitchen, an area in there could be a perfect pick. When we're not readying for a holiday, it could make a great grocery list/messages wall too.
Like the balloon idea, I like that you can lift this one away from prying paws, and like the chalkboard, I think it'd be a fun family project that'll make for a great memory every year when you take it back out. If you don't have access to a slew of paint stirrers, I think tongue depressors or twigs would make a good option too.
I can't deny that there's something magical about the twinkling of Christmas lights on dark, cold winter nights (assuming we get some this year). So even though I like a lot of the non-traditional ideas, I might miss that magic without the traditional Christmas lights. I don't feel great about the pet durability of this one, but I like that it'd be a quick project, and a source of twinkling Christmas cheer.
If you have a jigsaw and an hour or two, this one looks doable, and it has a rustic/industrial simplicity that appeals to me. Even without lights and color, with the presents in the mix, it feels fittingly festive. I'm not 100 percent sold that a puppy wouldn't gnaw it into oblivion, but I'd bet it'll at least stand up to cats.
Literally only willing to spend three minutes decorating? Here you go. I mentioned not too long ago that removable wallpaper is growing in popularity, and here's an outgrowth of that — an adhesive vinyl tree that you can slap up (in your chosen color), stack your presents in front of, then peel off on December 26.
'Unique' Christmas tree ideas that made me say, 'Bah humbug'
It's a major award! No.

If you're a 19-year-old guy in your college bachelor pad, go for it. Otherwise… no.
I'm all for recycling and reusing. But trying to inspire Christmas cheer with spent TP rolls? No.
Literally two steps away from hanging tinsel on the cat's litter box and calling it your tree. No.
Have any favorite Christmas tree projects you can suggest? I'd love to see some more ideas.
If you're looking for a new home to host this year's Christmas gathering in (or your New Year's celebration, or Valentine's Day, etc., etc.), I'd love to help you track down the perfect fit. Give me a call or send me an email, and tell me about what you're hunting for!
Author:
TJ Anderson
Phone:
615-364-1530
Dated:
November 16th 2016
Views:
495
About TJ: TJ Anderson is a Nashville Realtor with Benchmark Realty who's helped countless clients both buy a h...