Home Staging In Nashville With Anthea Click Of Fresh Perspectives
by TJ Anderson

Over more than a dozen years as a real estate agent in Nashville, I've learned a few prevailing truths about getting a home ready to sell. The steps you can take to make sure you get the most out of your property are many, and broad — from cleaning the place like the Queen's coming for brunch to making sure you sweat the small stuff, like busted doorknobs and little cracks.
But for my money, one of the best ways to get your home sold quickly and at a price point that makes you happy: home staging.
At the core, staging is temporary home decor. But its effectiveness runs a lot deeper.
"Staging allows potential buyers to focus on the great features of the home and develop an emotional connection to it," says Anthea Click of Nashville's Fresh Perspectives Home Staging and Design. "The architectural features are highlighted and any negatives — such as an odd floor plan — are minimized."
That emotional connection, I've found, is particularly key — when buyers don't have to struggle to visualize themselves using a space, but can instead imagine just sitting down to a family dinner or inviting everyone over for a Super Bowl party, the love connection happens more quickly and more completely, and so goes the home sale.
Click saw the same thing from my side of the process, working as a Realtor before launching Fresh Perspectives in 2007.
"My strength was presenting homes well, and I decided I needed to focus on the niche," she says. I'd say it was a smart choice — since then, she and the Fresh Perspectives team have staged over 3,500 homes, and in my professional opinion, they've been instrumental in making successful home sales happen across Middle Tennessee.
Since I love what she does and how she does it, I reached out to Anthea to get a little more insight into home staging itself, and her company's specific approach to it:
Interview with Anthea Click of Fresh Perspectives Home Staging and Design
Thinking back on all the homes you've staged with Fresh Perspectives, can you think of any favorites? Why do they stick out to you?
Anthea Click: "My favorite homes are new construction. I love seeing a blank canvas come to life."
Do you feel that individual style/taste plays into your approach to staging, or is there just a general sense of what works that you go by?
"No, my personal tastes have nothing to do with our approach to staging. Over 90 percent of our inventory I wouldn't have in my personal home. Staging is a combination of science and art. There are hard rules we follow, but as in everything there can be exceptions to the rules."
How about the particular style of the home you're staging — does that have an effect on the approach to staging, or is it more one-style-fits-all?
"Every home is different and I believe the home tells us what belongs in it. We approach each home focused on the target buyer and what speaks to them. What works in Brentwood doesn't work in East Nashville."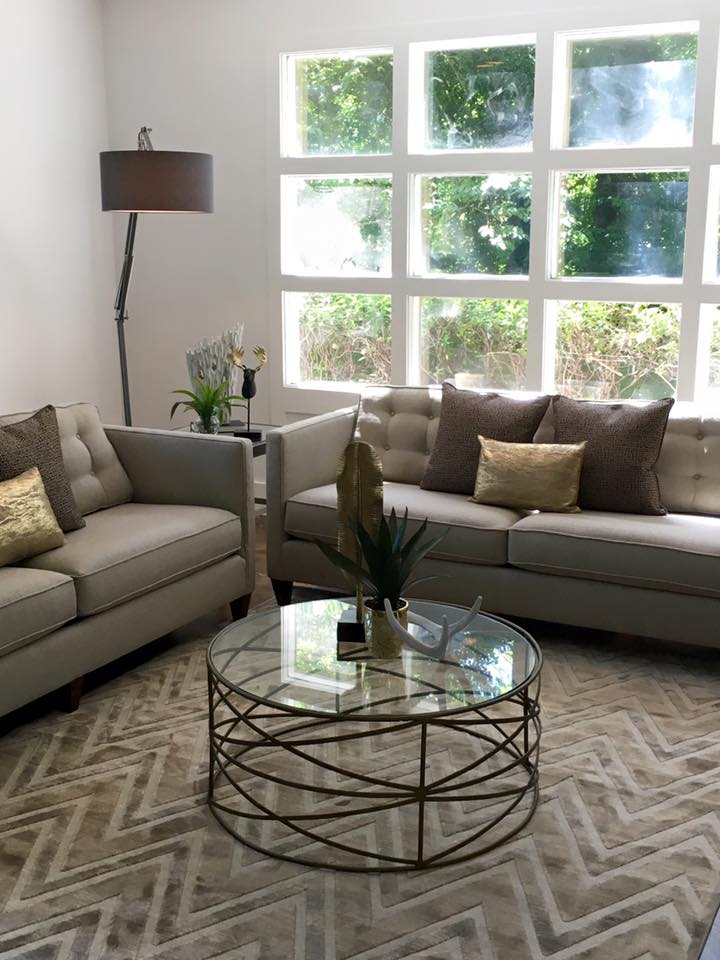 Since you came to Nashville from California: Did you find that home decor styles varied a lot from there to here, or are there a lot of common threads?
"Yes, there are a lot of common threads from California to Tennessee. California pushes the trends and Nashville can be a little slower to embrace them. I pay a lot of attention to the trends and incorporate them into our work, as we are ever-evolving."
Does it ever make you bummed out that you're putting a bunch of thought and passion into a home's decor, and it's all temporary?
"Honestly, it fires me up when the homes sell quickly. It means we did our job well and we were able to help our clients pocket more money, help our agents get a faster paycheck and help buyers envision how they can live in the home."
If a homeowner's budget doesn't accommodate full-home staging, are there some options you can suggest that would still do some good, but at a smaller budget?
"Absolutely! Staging doesn't have to cost a lot of money. With vacant properties it is wise to focus on the 'money rooms' — kitchen, living room, dining room, master bedroom and master bathroom. Occupied properties it's wise to focus on furniture placement, neutral paint colors and minor updates such as lighting and fixtures."
Have any other questions about home staging or Fresh Perspectives? Reach out to Anthea Click and her team at insidenashvillehomes.com. (You can get a look at more of their work there, too.)
Huge thanks to Anthea for sharing some of her expertise, and these beautiful photos.
When you're ready to sell a home Nashville or elsewhere in Middle Tennessee, our team can get the process rolling for you. Call or email TJ Anderson Homes, and tell us about your plans!
Author:
TJ Anderson
Phone:
615-364-1530
Dated:
January 31st 2017
Views:
694
About TJ: TJ Anderson is a Nashville Realtor with Benchmark Realty who's helped countless clients both buy a h...