How To Accomplish Your Home Resolutions In The New Year
by T.J. Anderson

When it comes to New Year's resolutions for your home, we're willing to bet you made—if any—one of the three following: to stay more organized, to pare down your belongings, or to keep things tidier/cleaner. Just like there are good and bad ways to stick with a diet or exercise program—or any new habit—there are some great tips for keeping your home just the way you want it. For real this time. We've gathered these tips from our own experience and from some authoritative online sources. (Recently apartmenttherapy.com and realsimple.com in particular have proven to be a wealth of inspiration for ways to keep things around the home in tip-top shape.)

This year, I will stay more organized by…
1. Doing it every day. Which areas of your home tend to get the most cluttered? The surface of your desk? Your countertops or coffee table? Introduce storage solutions to these areas (baskets, filing systems, etc.) and then spend a few minutes each day putting things in their place instead of letting them pile up. It helps to set a specific time each day that you tidy an area. For instance, it works great to organize your desk before you begin work.
2. Showing love to my bookshelves… One of the most gratifying and fun spaces to organize is a bookshelf, which can be sorted by color, genre, or size. Make sure to break up your shelves with conversation-starting knick-knacks and thingamajigs you love, and consider painting the back of your bookshelves a vivid color to make your arrangement pop.
3. …and my closet. Make your life easier by cleaning out and organizing your closet once and for all. Start by buying flat, thin, velvet-coated hangers that are all the same color, then organize and divide your closet like a retail shop, so that you're excited to "shop" from it every day.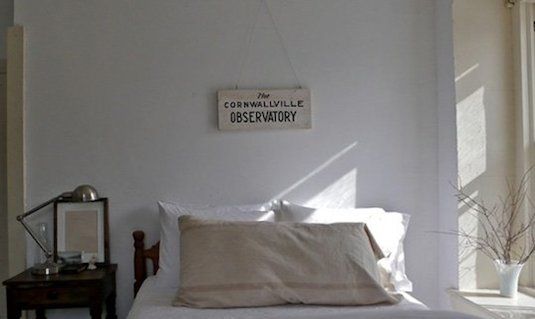 This year, I will pare down by belongings by…
1. Being honest. Much of time we keep things around the house that we don't need/want/use because we are B.S.'ing ourselves—pretending that we'll one day fit into something or grow to love something or find a use for something. When it comes to what's in your closet, it's best to toss anything that you haven't worn in a full year. Same goes for your kitchen; if you haven't used a gadget in a year, give it to Goodwill.
2. Making time for eBay and Craigslist. We're willing to bet that you're hanging on to many things you shouldn't be because they're a bit too nice to donate to charity. Take the extra time this year to photograph those higher dollar items that you need to ditch. Then determine whether they belong on eBay or Craigslist—usually bigger items should go on Craigslist and smaller, easy-to-ship items on eBay—and then put them there. Motivate yourself by planning what you'll splurge on with the extra $$ you make.
3. Recognizing the advantages of simplicity. First and foremost: Having less stuff means there's less stuff to pick up, organize, and clean. Which means that purging your stuff will help you obtain these other two resolutions, too.




This year, I will keep things tidier and cleaner by…
1. Setting a timer. It really is extraordinary how much can be done in a short period of time, especially if you don't allow yourself to be distracted. Try setting an egg timer for 10 minutes, during which time you see how much you can accomplish in one room. You may decide to continue on once the timer dings; either way, you'll be surprised what you were able to knock out.
2. Making cleaning fun. This sounds like a tall order, I know, but there's a lot to be said for mixing a cocktail and putting Spotify on while cleaning. Recruiting a spouse or roommate to help—and chat with—will also make things dramatically easier (and more enjoyable).
3. Have two (or three) of all cleaning supplies. Rather than toting cleaning supplies back and forth between your kitchen and bathroom—or even a vacuum cleaner up and down stairs—you'll find yourself more inclined to clean if you have your supplies at hand. This will mean you'll have duplicate cleaning supplies, but we say the more the merrier.

What are your favorite tips for keeping your home clean, organized, and simplified?
Author:
TJ Anderson
Phone:
615-364-1530
Dated:
January 9th 2014
Views:
1,918
About TJ: TJ Anderson is a Nashville Realtor with Benchmark Realty who's helped countless clients both buy a h...