by T.J. Anderson
"Small rooms or dwellings discipline the mind; large ones weaken it." —Leonardo Da Vinci


Earlier this week I
wrote
about how to stick to New Year's resolutions for the home; one of the most common resolutions is to simplify and purge junk. Whether I liked it or not that's exactly what I had to do when I recently moved across town from my 2,000 square foot East Nashville home (which also had a garage) to an 1,100 square-foot top-floor condo in Green Hills (which needless to say has no garage). I'd lived in my home on Eastland Avenue for almost a decade, so I'd acquired a lot of stuff, even as a single guy. Within just a few weeks time, I had to winnow my possessions down significantly—more than 900 square feet of possessions to be exact. It wasn't as hard for me to do this as I might have imagined.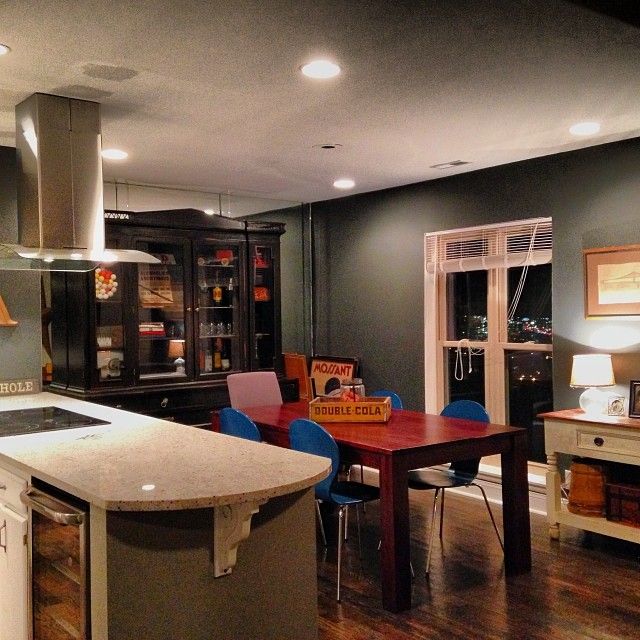 It took me a long time to decide that I definitely wanted to put my home on the market. Over the past years I've vacillated about whether or not it was a smart move for me—financially, logistically, and otherwise. Not so long ago I even invested a lot of money into fixing up my downstairs—put in new flooring, added a full bath, new stair treads and risers, all
new guest room
furniture and décor courtesy of my friend Kate Mills at
Old Made Good
. Luckily, most of those expenses ended up adding value to my house anyway, with the exception of the guest room furniture, which though super rad lived in my home for a laughably short period of time. In the end, I felt the decision to sell my home was the right one as soon as I'd done it, and I love the fact that it's simplified my life. Beyond belief.
Moving into a smaller space instantly gave me the ability to minimize. Sure, I said goodbye to my deck and my modest lawn, but with that I also was able to say goodbye to all the stuff that comes with that. I sold things to friends, sold things online, sold things via social media, and gave things away as quickly as I could. When I moved I really planned out my new space and decided on all the important furniture; everything else could be cast aside.
Now I live on functionality and minimalism. My place is a lot easier to keep clean, and I love that everything is right on hand. Everything has a place, and now I know where everything is. The open floorplan has helped me, too. When everything's out in the open, you don't want everything out in the open. When you have an open space it stays a lot cleaner by nature because when you have rooms you can hide things in, you do. When you don't, you don't. And here, every time I walk my dog, Ella, I take the trash out, so I never have trash.
Even though I have a dedicated office, I find myself working from the big farm table off of my kitchen. Everything is in sight now, my music is on, and I like to be able to spread things out and work from there. In reality, as a single guy, all I need is a living space with a couch, a place to do work, and a place to sleep. At the end of the day that really is all anybody, single or not, needs. It took moving for me to figure that out, but it feels like a revelation. It's been a great way to start 2014.
I'm certainly not the first person to sing the praises of small space living.
Apartment Therapy
, one of the most wildly popular home design websites, was founded to celebrate the art of decorating and living in small spaces. And the beauty of simplifying things in one area of your life is that it naturally leads to simplifying them in others. Old Henry David Thoreau says it better than I ever could: "As you simplify your life, the laws of the universe will be simpler; solitude will not be solitude, poverty will not be poverty, nor weakness weakness."