Some Elegant April Showers On The Market In Nashville
by TJ Anderson
I did this last year, and as a person who really appreciates timeless, tasteful tile work, I'm inclined to do it again.
We're in the middle of April, and that's April Showers season. We're talking rain, sure, but let's go ahead and bring it indoors, since that's kind of where my loyalties lie. (Sorry, nature.)
Here, a few homes on the market now in Nashville that have showers that make my home-design heart stop just a little bit.
$524,900
I'm a sucker for a subway tile, which is part of why I'm drawn to this Sylvan Summit spot. But also: It's crazy huge. You could just about have a water polo tournament in this master shower — noteworthy in particular since the home's only about 2300 square feet. Not small, certainly, but I think half of that is this shower.
$539,900
By and large, I tend toward the less-is-more aesthetic when it comes to tile work. But this newer Sylvan Park home caught my eye — they went a little bold with the horizontal stripe inlays and vertical, extra-large subway tiles, and I think it brings unique interest without overdoing it. What's your feeling?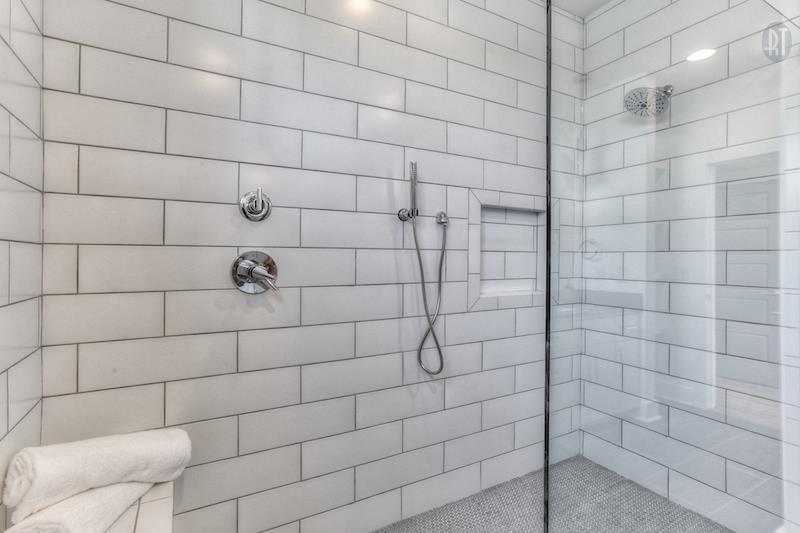 $629,900
The first thing about this Edgehill property that caught my eye was the seriously stylish wall treatment throughout — reclaimed statement walls (and ceiling!) in the dining, cool textural treatment in the master bedroom. Really elevates the design overall. I also really love how they mixed classic tile design in with the home's largely modern aesthetic. You can't go wrong with white subway tile and darker penny tile together. Classic and beautiful.
$659,000
Where are my historic home lovers? Caveat: This 1928 East Nashville home was totally renovated, top to bottom, so you're not gonna see original '20s tile in these showers. But you will see tasteful, timeless choices — this master looks crisp and beautiful — and all the cool that comes with historic bones.

$998,000
Although this is a newer Green Hills area home, they went for very traditional design throughout, including their stone tile look in the master bath. I really like the layout in this one — the shower's so open and bright, and — I know we're not talking April Tubs — but that soaker tub is pretty inviting too.
$1,700,000
Belle Meade tends to be known for more traditional homes, and this new construction goes somewhat modern, but all elegant. Chandeliers and marble and bright white, clean design — it's pretty, pretty, pretty, especially when you get to the master bath, with crisp elegance of stone from the floors to the walls to the shower. You need relatively deep pockets to move your morning routine to this space, but you can definitely see why.
Feeling wooed by any of these April showers? Something else in mind? Reach out and tell me about what's in your dream-home dreams, and I'll get to work on finding where the perfect place is hiding.
Properties are listed with their own respective real estate firms, and not under agreement with TJ Anderson and/or Benchmark Realty, LLC.

Author:
TJ Anderson
Phone:
615-364-1530
Dated:
April 12th 2016
Views:
744
About TJ: TJ Anderson is a Nashville Realtor with Benchmark Realty who's helped countless clients both buy a h...