Take A Peek Inside The Nashville Barn Tish Cyrus Designed For Daughter Miley Cyrus
by TJ Anderson
Last week, the Cyrus family — of Billy Ray/Miley/etc. fame — invited Architectural Digest to check out their new Nashville home, a 1940s Tudor they renovated and expanded under the design direction of matriarch Tish Cyrus.
The magazine notes that the property is the first one Tish has designed solo, and from one home-design devotee to another, I have to give her high, high marks. We seem to have similar taste here and there, too — I shared some love last year for the same concrete tile she picked for a statement wall.
Throughout, the whitewashed brick home looks fresh and current, without giving up the historic vibes. My favorite space, though, is easily the "spunky" revamped barn Tish set up for pop star/actress/The Voice coach/daughter Miley Cyrus (pictured up top), for when she's in town from L.A. With a mix of fresh colors, warm wood and clean and bright white shiplap, it's a guest space any grown kid would be thankful to crash in, I'd think — even one worth, oh, hundreds of millions of dollars or so.
Take a spin through Miley's barn and the rest of the house at ArchitecturalDigest.com, and if you feel inspired by Tish's design picks, here are a few pointers on how to steal her made-for-Miley style, in particular:
Colorful rug
With an otherwise muted palette, I love letting a colorful rug bring out the loud. This one's similar to the diamond-trellis rug Tish Cyrus stuck in Miley's barn kitchenette — pops of brightness with a relaxed pattern.
Mid-century-style sconces
The living-space lighting Tish chose gives off mid-century vibes and adds a little femininity without going overboard. Really love these globe sconces above the seating, flanking some cool modern art. For a really close match, the Modern Chic Milky White Globe sconces from Homary, pictured above, would do it. To simplify, I love this Powell Wall Sconce from Lights.com too.
Cement tile
I'm still way, way here for the encaustic tile trend — from bathroom floors to backsplashes to feature walls, they can take a space from fine to fantastic. Tish's black and white geometric backsplash tile choice really makes that small area pop. Houzz is a great place to shop for tiles like these, and the above Temara Handmade Cement Tiles would bring a similar look.
Velvet sofa
One of the few things I see a lot of agreement on in design-trend-prediction circles: Velvet's big and sticking around in 2017, especially for seating, especially with a little Chesterfield influence. Miley's luxurious barn couch is a perfect example. If you like the look and prefer to go new rather than vintage, you could try One Kings Lane (one of Tish's go-to outlets), and grab something like this light velvet Coventry sofa.
Glass pendant lights
The delicate herringbone etching on the pendant lights Tish chose for Miley's barn brings great texture to a simple fixture. I like the way the cyclone effect on these pendants from Shades of Light offers similar texture, but a slightly less delicate feel.
Acrylic coffee table
When you have a smaller living space and don't want to close it in with a bulky coffee table, acrylic to the rescue — a piece like the one Tish chose for the barn (or this one from CB2) gives you the function while taking up a negligible amount of visual space.
Cool cabinet color
Trade trick: If you want to bring in some color but also want to make sure you don't go overboard, try Sherwin-Williams' Historic Collection. Figure if the tone's stood the test of time, you can feel relatively confident you won't regret your choice. Their Color Through The Decades selections can help you pinpoint the right colors for a historic renovation, too. For the barn, Tish went with a soft, throwback powder blue that plays with the black and white backsplash tile in a really cool way. Sherwin-Williams' Sleepy Blue is a pretty good match for it.
What do you think of Miley's mom-designed barn? Think any of those tricks/picks might end up in one of your spaces? I'd love to hear your feedback.
If you're looking for a new home in Nashville to make your own, I'd love to help you find it, too. Call or email TJ Anderson Homes here.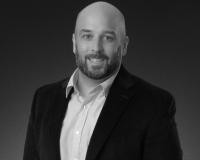 Author:
TJ Anderson
Phone:
615-364-1530
Dated:
October 3rd 2017
Views:
173
About TJ: TJ Anderson is a Nashville Realtor with Benchmark Realty who's helped countless clients both buy a h...