The Largest Homes In The United States Are In Williamson County
by T.J. Anderson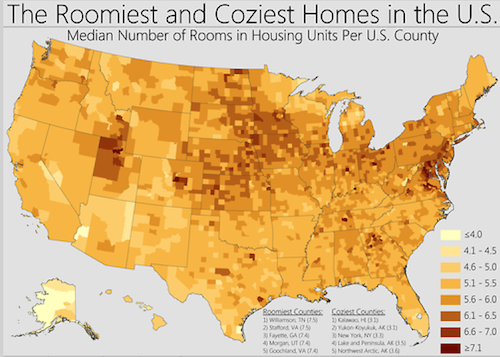 According to a new study by a blog called Vizual Statistix, the biggest concentration of large homes in the United States can be found in Tennessee's Williamson County, which has an average of 7.5 rooms per home. The national average is 5.5 rooms per house.

Say what?

I mean, obviously there are plenty of houses in Franklin and Brentwood the scale of which will drop your jaw, but the fact that we beat out every other county in the nation is surprising. I would have guessed that the Los Angeles area would be home to the most mansions, but it didn't even make the Top 5, not even the Top 20. Instead, the Top 5 Roomiest Counties (defined by the median number of rooms in a housing unit) are the following:

1) Williamson County, TN
2) Stafford County, VA (This is part of the DC, Arlington, Alexandria area.)
3) Fayette County, GA (This is included in the Atlanta Metropolitan area.)
4) Morgan County, UT (Part of the Ogden-Clearfield area, as well as the Salt Lake City-Provo-Orem area.)
5) Goochland County, VA (Richmond, VA)
Study author Seth Kadish explains, "The darker areas [on the map] tend to have roomier housing units. These include parts of the Mid-Atlantic, the Midwest, and Central Plains. The latter may be due to large farmhouses. There are also specific hotspots in some states (e.g., Utah, Georgia, and Tennessee) that have higher medians. Of the 25 counties with medians of at least seven rooms, eight are in Virginia, four are in Maryland, and three are in Utah. No other state has more than two."
Counties with the "coziest" (aka smallest) homes include ten in Alaska, two in New York, and one each in Texas, Arizona, and Hawaii. Furthermore, in a typical U.S. county, approximately 2.5% of housing units have only one or two rooms, while close to a quarter (22.8%) have five rooms, and just under a fifth (19.7%) have six rooms.
It's interesting to note that bathrooms were not counted in this data, which looked only at rooms
as defined by the U.S. census
. In addition, the following rooms don't count: kitchenettes, strip or pullman kitchens, utility rooms, foyers, halls, open porches, balconies, unfinished attics, unfinished basements, or other unfinished space used for storage.
The Tennessean
reports
that these findings are in step with a national trend toward larger living spaces.
"Home sizes have increased dramatically in the last four decades," says reporter Lance Williams. "In 1973, the median home size was around 1,545 square feet. The average home size rose from 2,362 square feet in 2009 to 2,679 square feet in 2013."
More and more new homes (currently 48%) are being built to have at least four bedrooms, as compared to 34 percent in 2009.
Are you surprised about Williamson County's ranking?
Author:
TJ Anderson
Phone:
615-364-1530
Dated:
May 14th 2014
Views:
4,821
About TJ: TJ Anderson is a Nashville Realtor with Benchmark Realty who's helped countless clients both buy a h...