The Music City Food And Wine Festival Celebrates Nashville And National Chefs
by TJ Anderson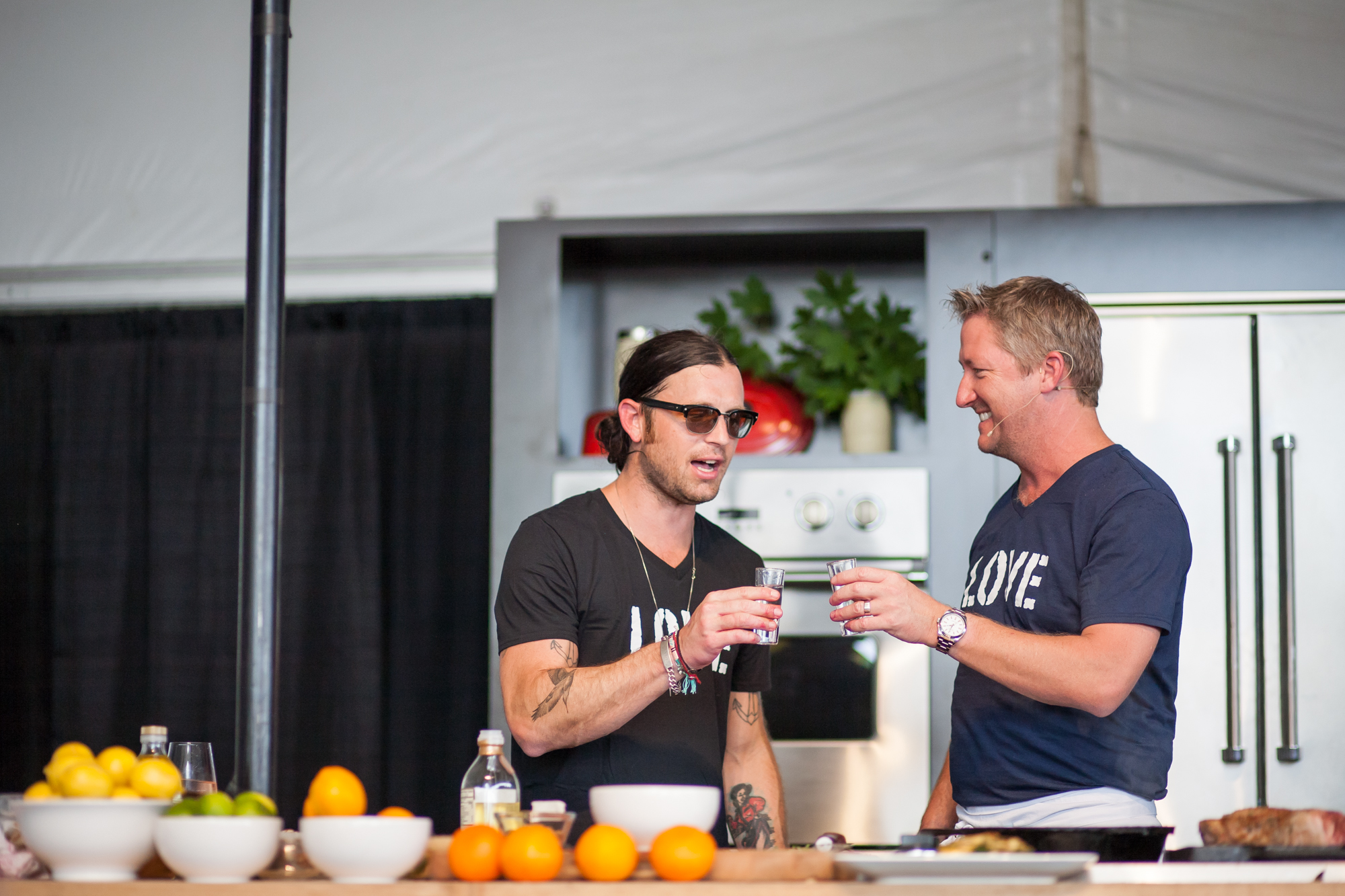 Last week, Food & Wine magazine echoed an increasingly popular sentiment: "Nashville's Restaurant Scene Goes Boom" — in the positive-noise-heard-around-the-world sense of "boom." And maybe no one event spotlights that boom quite as thoroughly as the Music City Food + Wine festival, returning for its third year on September 19 and 20 at The Green at Riverfront Park and Walk of Fame Park.
Over the course of those two days, a mix of local and visiting chefs will share culinary secrets at demos and discussions, and restaurants and beverage makers will share a full-on smorgasbord of samples with attendees. It's a total food-lovers' paradise, and one of the better excuses for gluttony you'll find all year.
Last week, too, the folks behind the fest — including Grammy-winning band Kings of Leon (drummer Nathan Followill on the left, up top) and celeb chef Jonathan Waxman — announced the 2015 chef lineup, and it's once again a stacked crew of people with impressive literal and figurative chops.
Even if you're not a hardcore food-world follower, I'd bet you've heard of a lot of these folks, from TV, press and otherwise — and more than a few of those nationally and internationally praised chefs either call Nashville home or have a tight connection to our town.
Want a closer look at who's cooking at the 2015 Music City Food + Wine festival? Here are a few highlights, with an emphasis on folks who are helping the Nashville scene go boom.
Tandy Wilson
restaurant(s): City House in Germantown
bona fides: nominated for Best Chef Southeast by the James Beard Foundation every year since City House's first, and a semifinalist in 2013, 2014 and 2015.
Nashville connection: He's a hometown chef, and, as Food & Wine says, runs the kitchen in the "foundational restaurant in this Nashville moment."
Sean Brock
restaurant(s): McCrady's, Husk Charleston, Husk Nashville in Rutledge Hill and Minero
bona fides: Brock's accolades are many — he earned a James Beard Award for "Best Chef Southeast" in 2010 and was a Beard "Outstanding Chef" finalist in 2013; he got an Emmy nod for hosting a season of Anthony Bourdain's The Mind of a Chef PBS show; and Heritage, his first cookbook, took a Beard Book Award for "American Cooking" this year (and was a New York Times best-seller).
Nashville connection: Brock splits his time between Charleston, where the first Husk resides, and Nashville, where the newest Husk lives.
Carla Hall
restaurant(s): Carla Hall's Southern Kitchen, to come
bona fides: Hall's a total food TV star — after becoming an audience favorite on Top Chef, she moved into a job as co-host of ABC's The Chew show.
Nashville connection: Hall is a Nashville native, and her first restaurant — Carla Hall's Southern Kitchen in New York — is said to be a "love letter" to her hometown.
Tim Love
restaurant(s): Lonesome Dove Western Bistro, Woodshed Smokehouse, Queenie's Steakhouse, Love Shack and White Elephant Saloon
bona fides: Love's a hugely successful Texas chef, the co-founder of the Austin FOOD & WINE fest and the "Official Chef" of the Austin City Limits music festival, so he's a pretty perfect fit at MCF+W. He's also been something of a regular on food TV, from Iron Chef America to Top Chef Masters.
Nashville connection: He's a vocal fan of Nashville cuisine, a tight Kings of Leon friend and, rumor is, a future Nashville restaurateur.
Jonathan Waxman
restaurant(s): Barbuto, Adele's Nashville in The Gulch and Bajo Sexto Taqueria in SoBro
bona fides: one of the best-known and most respected chefs in the country with restaurants on both coasts under his belt, along with two seasons of Top Chef Masters.
Nashville connection: Along with helping launch MCF+W, he opened Adele's here in 2014, and followed it up with low-key taco stop Bajo Sexto in The Country Music Hall of Fame this year.
Maneet Chauhan
restaurant(s): Chauhan Ale & Masala House in The Gulch
bona fides: Although Chauhan Ale & Masala House is her first venture as a restaurateur, Chauhan's been big time in food for a good while — she's earned a James Beard Award for Excellence, competed on Iron Chef America and in The Next Iron Chef competition, and is a regular judge on Food Network's Chopped.
Nashville connection: With the November 2014 opening of her namesake restaurant, Chauhan became a hometown chef.
Roderick Bailey
restaurant(s): The Silly Goose in East Nashville
bona fides: Bailey's a winner, even if he didn't come out on top in the episode of Food Network's Chopped he competed in — he leads one of East Nashville's best-loved restaurants, and in 2013, he took Food & Wine's "People's Best New Chef Southeast" honors.
Nashville connection: He's a hometown chef.
Dale Levitski
restaurant(s): executive chef at Sinema in Melrose
bona fides: Levitski came up in Chicago, got nationally known as the runner-up in the third season of Top Chef, and then landed here in Nashville, leading the kitchen at upscale eatery Sinema.
Nashville connection: He's a hometown chef.
Big fans of any/many of these chefs? Love to hear your favorites on our Facebook page. It's a great lineup, and this is just a fraction — check out the whole cast at the Music City Food + Wine fest website.
Tickets for the Music City Food + Wine festival are on sale now, from day passes to "all-in" weekend passes.
Author:
TJ Anderson
Phone:
615-364-1530
Dated:
May 18th 2015
Views:
887
About TJ: TJ Anderson is a Nashville Realtor with Benchmark Realty who's helped countless clients both buy a h...