The Power Of Black And White In Home Design
by TJ Anderson
I shared some home design tips last week, inspired in part by the two new Woodbine homes I'm putting the finishing touches on now. Pictured above: my crisp white farmhouse, and dynamic black (technically, Iron Ore) foursquare. I think my choices with these two homes make another home design approach I really love pretty obvious: harnessing the power of black and white.
If you've gotten the feeling that leaning on black and white is uninspired or boring, let me disagree by using some concrete examples. Used with an artful hand, I think there's more power to sticking just to black and white than almost any other color scheme. And the classic contrast will truly never go out of style.
Need some more specifics to believe me? Here's some black and white beauty in Nashville to ogle: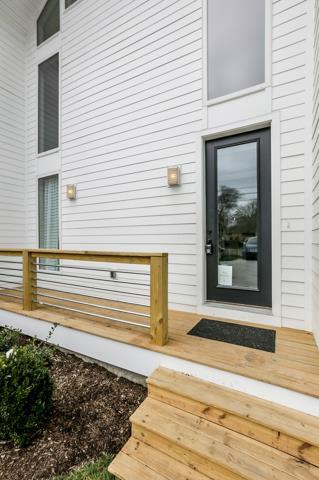 $349,900
I wrote a while back about a what a front door color choice says about your personality, and according to the design expert I was reading about, a black door means you're about classic charm and sophistication. I can buy it. This new construction in East Nashville has a sort of modern churchhouse look to it, and the stark white exterior definitely gets a punch of classic sophistication with the deep black door.
$369,900
The Nations has become more and more of a draw to Nashville's young creative class, and, naturally, an eye for style is prevalent. This new construction serves those folks well, with some farmhouse design elements and a crisp exterior color scheme — the dark roof, door and railings: so sleek against the bright white.
$404,900
Be still my heart with this one: utterly gorgeous, classy contrast in Salemtown, between the dark lower cabinets and bright white countertops, white uppers and black trim… a perfect picture of the versatile power of a simple black and white color scheme.
$557,900
When I was writing about 2016 home design trends a few days back, I mentioned that black trim was having a moment. Right with it: black window frames. I absolutely love this look when it's paired with classic white trim — such a subtle but dynamic and crisp addition to a space. This East Nashville home is a gorgeous example — classic and classy.
$899,900
In this West End/Hillsboro-area home, black hexagon tile makes a dynamic statement on the master bath's floor, keeping the space from feeling washed out while rest of the design stays clean and white.
$906,950
This Green Hills home wasn't complete yet when the photos were taken, but you can get a sneak peek at how its black and white contrast plays beautifully with the Federal-inspired architecture. White brick paired with black shutters and roof: dignified grace.
$1,349,900
In tony Oak Hill, classic and classy is the expectation, and this home nails it with a strong black-and-white kitchen design, with two-tone cabinets (again, like I mentioned in my design trends post). The black/white is particularly beautiful on the kitchen island — bright white apron-front sink, light stone countertops, deep black cabinetry. It really anchors the room.
Hit me: Do you agree with my take on the power of classic black and white? I'd love to hear your opinion.
And if any of these homes are calling to you (or if there's something else on your wish list that I can help you find), reach out and let me know!
Author:
TJ Anderson
Phone:
615-364-1530
Dated:
March 1st 2016
Views:
2,160
About TJ: TJ Anderson is a Nashville Realtor with Benchmark Realty who's helped countless clients both buy a h...