This Weeks Save The Nashville Homebuyer February 24th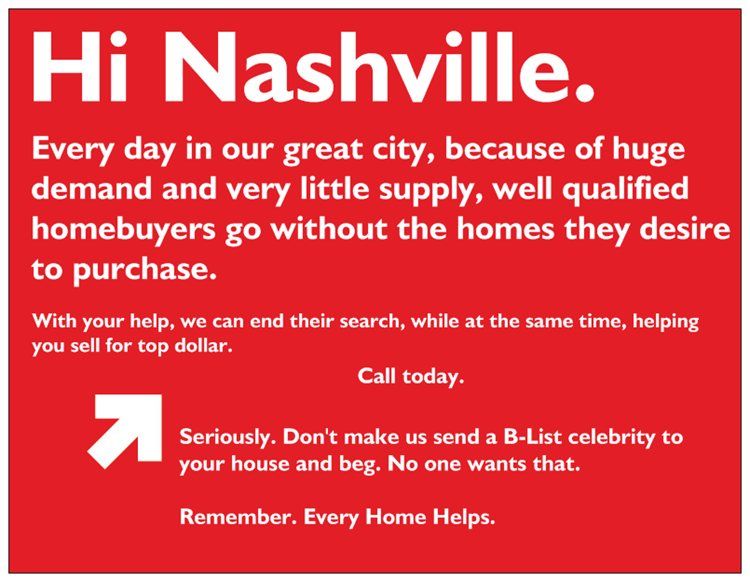 Hi Nashville.
How are you this week?

Did you enjoy the wonderful weather this weekend? We sincerely hope you spent time enjoying your backyards and gardens.
Sadly, there are good hearted, well-qualified home buyers who want to do the same things, but have no place to call their own. They have paint brushes still in the wrapping, tomato seeds ready to be planted, and pinterest boards filled to the brim with creativity.
Here are this weeks most serious needs. Call us Nashville. For Just a home a day......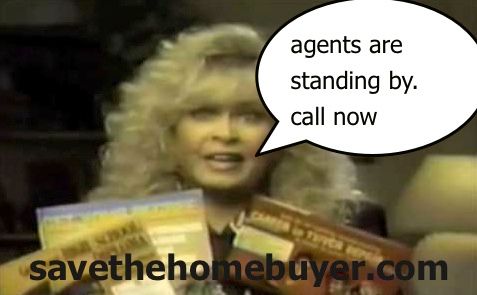 -Green Hills/Lipscomb homes under $450,000. We know you're out there. Come out from the shadows. If you happen to have twin, in the form of a duplex or multi-family, this young home buyer is ready to move right in. Want to stay after the close? This eager home buyer is willing to rent out one side. Give us a chance Lipscomb, we're obviously willing to share.


- East Nashville homes under $320,000 with room for a workshop. When we say East Nashville, we mean the East Side of Nashville, and will consider 37206, 37216, and 37207. Got a charming home? Does it even need some work that you've been meaning to get to? No worries, this young couple is ready to go, armed with 20% down, a fully loaded Home Depot card, and a full Pinterest board full of ideas. Got something unique in Wedgewood/Houston area, or SOHO as it is so artfully called? We'll look there too.




- OK, 12 South, we are looking at you! We have flagged you down, made our advances, and are about to go all John Cusack and Say Anything on you, so listen up! We need a great home, old and updated (or if you prefer, Vintage and Artisan Restored), or brand new. This lovely couple has been left out in the Nashville cold, with only their 20% down and ability to close quickly to keep them warm. If you are looking to sell your home to the tune of around $400,000, call us. Temps are warming, but please, call before rates go up.

- Inglewood, Inglewood, Inglewood....why so Diva? We have courted you for months, and all we ask is for a fixer-upper to the tune of $125,000. Is that too much to ask? This young couple has stars in their eyes for their first home, and have DVR'd every episode of Property Brothers, that I just might start talking with a Canadian accent and calling master baths "on-suites"...No one wants that. Give us a chance 37216, you won't regret it.
- Hey multi-family and commercial property owners, what's the deal? Why won't you part with your unused space in East Nashville? Forget the sister wive craze you're waiting for, if you have a spot that allows for a hotel, multi unit space, give us a shout. You will be paying it forward and housing many Nashville visitors. CMA Fest thanks you in advance for your generosity.
We have many more, but these are our most serious buyers and situations. We turn to you, Nashville. Can you find it in your hearts to help us, these pre-approved home buyers, and to help your financial future? By selling in this, the hottest of Nashville's sellers markets, you too can find financial freedom. And don't worry about your next home.......We are standing by to help you with that.
-TJ Anderson


Author:
TJ Anderson
Phone:
615-364-1530
Dated:
February 24th 2014
Views:
1,722
About TJ: TJ Anderson is a Nashville Realtor with Benchmark Realty who's helped countless clients both buy a h...