Nashville Home Inspectors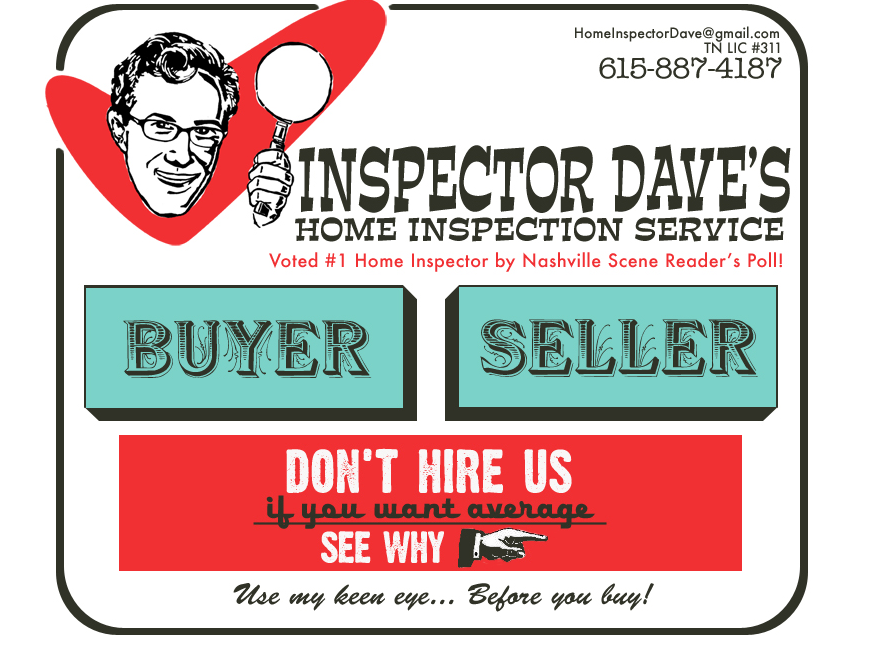 *from www.nashvillehomeinspector.com
When you are about to buy a home there is one thing that is very important to do... get a home inspection. Home inspections are the perfect way to make sure that the home you are about to buy is in peak condition. They are great for multiple reasons including identifying items that may need to be replaced, to evaluate the physical condition of the structure, construction and mechanical systems, and to estimate the remaining life of the systems such as electrical, heating, plumbing, and air conditioning. These are only a few examples of the ways home inspections help you as a buyer.

Another important thing to consider is that you, as a home buyer, have a right to choose your own home inspector. In fact, you should research your inspector before choosing them. We encourage you to go with an inspector that you feel comfortable with, one who will represent your needs and provide you the quality inspection that you deserve.
---
*from www.premierinspectiontn.com
Buying a new home is probably the biggest investment you'll ever make. There is always considerable risk involved when making such a large purchase decision. A professional inspection will significantly reduce your risk and help make the entire home buying process easier and less stressful. The inspector will point out area that need attention and explain them to you. The inspector will show you the good points of the house as well. We will also explain what routine maintenance is needed to keep the house in top condition. You'll get a comprehensive report the same day that is easy to understand. Everything identified during the inspection will be included in the report. Armed with the information our report will provide, you can make your home buying decision with confidence.
Testimonials
" I highly recommend T.J.! He was super professional and knowledgeable about the home market in Williamson county. T.J. was always really fast to get back with me which was a breath of fresh air compared to other lackadaisical realtors I have worked with in the past. "
- Steve Smith
" TJ is a true professional. My wife and I were looking for a home last summer, TJ worked very hard tracking down the sellers agents and even negotiated the price down within our budget. We actually had an offer in place when we decided to pull the offer (we got our heads back) at the last minute. TJ was unfazed (I would have been more than a little peeved if a customer was that close to purchase and then backed out) and took it all in stride. You can tell a lot about someone when things are going their way. You can tell even more about them when things don't work out. I would highly recommend (and have recommend) TJ to anyone selling a home in the Middle Tennessee area. Zach D. "
- Zach D.
" T.J. is truly one of Nashville's best realtors. He knows Nashville inside and out, not only his own neighborhood of East Nashville, but Belle Meade, Brentwood, 12th South, West End. He is dedicated to finding his clients the best home for their own lifestyle, or to get the best offer for a listing, and he works hard for each and every person or family. Whether you're relocating to Nashville or within Nashville, you will enjoy working with T.J. Anderson and be thrilled with your new home! "
- K. Novosel
" T.J. is an experienced and gifted at findind the right home for each customer. He makes the entire process and fun and enjoyable experience. He's very knowledgeable about the real estate process and his service areas. "
- K. Norman
" I have known TJ since 2007, have purchased two homes with him and sold 3 others. He is, without question, the most knowledgable and responsive agent in Nashville (and beyond). My only regret is that I have recently moved out of state and am not able to use him on my next purchase out here. I would do so in a heartbeat if given the chance. I cannot recommend TJ more highly, either personally or professionally. "
- Pinky Gonzales
" TJ sold our house in franklin on the first showing! Although TJ helped us buy and sell our home almost three years ago, he continues to help us whenever we need it. He's more than a realtor he's a friend, "
- Stacy & Jay Price
" T.J. was always reliable, honest and is very knowledgable on the East Nashville area. I would recommend him to anyone looking to buy/sell in the area! "
- L. A. Jones
" T.J. was both personable and professional throughout the process of buying our house in East Nashville. He has a great knowledge of the area and the real estate business and was always honest with us at each step of the way. He was truly invested in finding the house that was right for us and advocating for us throughout the negotiations. It was a great experience to work with T.J., I recommend him to everybody and I plan to call him again if/when we buy our next house in Nashville! "
- C. Williams
" I can honestly say I would not have found the home of my dreams without T.J. Anderson! I bought my home last fall and he was incredibly patient, knowledgeable and made me completely comfortable throughout the entire process. He handpicked the house of my dreams and despite it having several other offers on the table he worked his magic to make it mine. I cannot say enough great things about him! I would tell anyone looking for the right agent to either buy or sell a home to work with him...you will not be disappointed. "
- M. Lafevor
" TJ was nothing short of amazing throughout the entire process! He is extremely knowledgeable and personable, as well as attentive to his clients. TJ handled every situation with professionalism, was timely in responding to any requests/questions, and provided impeccable advice to me as a first time home buyer. He treats you like family and I wouldn't recommend anyone else! Exceptional experience "
- Jess Salley
" TJ was awesome! We bought and sold a house with him during the first half of 2012. He was thorough, patient and helpful. Plus he did it all with a sense of humor which we appreciated. He was great in showing us all of our options and get feedback so that he could then show us just the few gems that truly fit our needs. In the end, he found our current house 5 minutes after it went on the market. I'm positive that another realtor would have missed that, but not TJ.I would highly recommend him to anyone! "
- J. Grimes
" T.J. was the perfect agent for my wife and I. He was highly communicative without being over bearing, and was good at listening to our interests and concerns. He was responsive to our needs, and patient and helpful in guiding us through the whole home selling process. T.J. is highly professional all-around, in his appearance, his actions and his words. I would recommend him without question. "
- Mark Wood
" In short, TJ was awesome. He never once pressured us to look for something that was outside of our budget or didn't fit our style. His main concern was that we found the right house for us. He really cared about us and our future life in the home. He was also very knowledgeable about the areas (not just the architectures) that we might be best suited for. Now that we're settling in to our new (and first) place, we couldn't be happier! We're ready for the warm weather to stick around for a while so that we can get cracking on our outdoor projects! I have already recommended working with TJ to some of my friends who are currently looking for homes in Nashville and will continue to do so. "
- J. Seaton
" TJ and his team were spot on. They helped me in searching and purchasing my first home. Had no issues and everything was handled in a timely and professional manner. Highly recommend this group for any real estate need. "
- C. Hickman
" T.J. is a top notch sales and service professional. I have bought homes in multiple states and dealt with a dozen real-tors and T.J. is the best of the bunch. I need three things from my real-tor: local knowledge, responsiveness, and honesty. T.J. is off the chart in all three areas. I follow his real-estate blog and regularly bounce market questions off of him. T.J. responded quickly and professionally to each and every question my wife and I sent his way. Ultimately T.J. talked my wife and I out of a not so good deal and advised us to wait a while before purchasing a second home (due to our situation not the market). I would not hesitate to recommend T.J. to anyone interested in Nashville real-estate. Form a first time home buyer to someone just new to the area you can't go wrong with this guy! "
- J. Meneely
Previous
Next